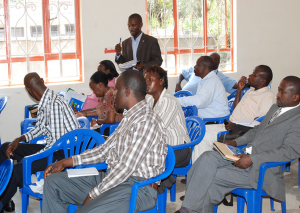 In October 2008, a joint sector review, combining the Water and Sanitation as well as the Environment Sub-sectors, was conducted for the first time. However, the stakeholders from ENR- Sub-sector only attended as observers, to acquire experience in preparing and contributing to the Annual Sector Performance Review process.
In 2009, Environmental Alert (EA) was invited by the Ministry of Water and Environment to participate in the Ministry's Environment and natural resources sub-sector working group as a member of the committee representing the civil society but also participate in the Ministry's annual joint sector review process. EA
In 2010, a mapping process of ENR CSOs in the country and their related contributions to the sector in their respective areas of operation was carried out by Environmental Alert in 2011 with support from CARE International in Uganda and IUCN Uganda.
In the same year, EA mobilized CSOs to form a network so as to formalize their participation in the Ministry's annual joint sector review process but also ensure effective representation of CSOs in the Ministry's planning processes. CSOs agreed on modalities for collection and documentation of their own contribution to sector development targets for inclusion in the Ministry of Water and Environment annual sector performance report. As an advocacy strategy, the CSO performance report with policy recommendations submitted to the Ministry is meant to influence sector priorities determined during the joint sector review every year.